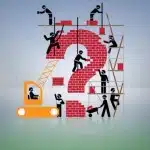 While most consider pharmacogenomics (PGx) the study of response to drugs in the clinic (e.g., efficacy and toxicity), PGx is also an amazing tool to understand fundamental biology of human disease.  Drugs perturb human physiology in a way that cannot be accomplished in the resting state.  
Most would agree that complex traits such as rheumatoid arthritis (RA) are more than just one disease.  In fact, some advocate using the term "syndrome" rather than "disease" for RA, as syndrome emphasizes the complex and heterogeneous etiology.  However, what are the underlying subsets?
Genomic technology promises to deconstruct complex traits such as RA.  The problem that I have seen, however, is how to classify the subsets of disease.  On one hand, we could take an unsupervised approach, and allow the data to form phenotypic subclassifications.  In the study of RA synovial tissue (the primary site of pathology), data suggest that there are histological categories of disease depending upon the predominant cell type.  One the other hand, what is ultimately important is how to translate disease subsets into clinical care.  And for this to occur, there must be a correlation with clinical findings.
Here is where drug exposure can help translate an unsupervised approach into a clinically actionable discovery.…
---